Sticker Maker Apps For Android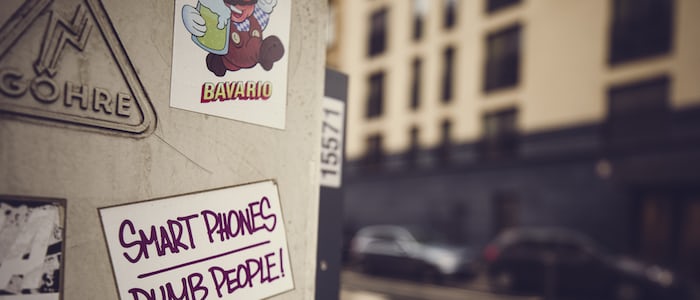 Unlocking the Fun of Digital Communication – An Overview of Sticker Maker Apps
Stickers have revolutionized the way we communicate digitally; they add a touch of fun and pull conversations out of the mundane routine of text-based messaging, making it more engaging. Whether it's expressing your emotions or conveying your thoughts more vibrantly, stickers come in handy to instantly lighten up conversations. They are not just static images anymore but have transformed into dynamic elements like animated stickers and memojis. There's no denying that the latest surge in sticker packs, especially when coupled with popular platforms like "WhatsApp WAStickerApps", has significantly changed the messaging landscape. Imagine having the luxury to create your custom meme stickers or animate your expressions into a memeoji sticker!
15 Sticker Maker Apps For Android
Here is a list of the top 15 Android apps that we recommend downloading.
Animated & Text Sticker Maker

Write text in your native language and convert it into stickers.

VivaVideo - Video Editor&Maker

Easy-to-use editing app: add music, effect, transition, text, sticker, filter

Sticker.ly - Sticker Maker

Chat Sticker & Meme Maker for WhatsApp and Telegram - WAStickerApps

Collage Maker | Photo Editor

Pic collage maker & background eraser: 1000+ layout, grid, filter, sticker, text

Sticker maker

Create your own sticker packs for WhatsApp, cut out your photos or import memes!

Collage Maker Photo Editor App

Make sweet photo collage with 1000+ layout, background, frame, sticker, text.

Sticker Maker for WhatsApp

WhatsApp Stickers Maker - Make stickers and create stickers for WhatsApp

Animated Stickers Maker & GIF

Animated stickers for Whatsapp: Customized GIFS pack. Video & GIF sticker maker

Photo frame, Photo collage

Photo collage maker & photo editor with 500+ grid, frames, filter, sticker, text

Stylish Text - Fonts Keyboard

Fonts Keyboard, Stylish Fonts, Kaomoji, Nickname Generator, Sticker Maker

HD Sticker&Pack WAStickersApps

Sticker maker for WAStickerApps .Sticker & emoji list for unlimited downloads.

Sticker Maker for WhatsApp

Stickers for WhatsApp

Sticker Maker - WAStickers

Create custom stickers for WhatsApp easily! Ultimate WhatsApp sticker maker!

Smarty Man Editor App Maker

Men hair styles, mustache beard style, six pack sticker with background remover.

Sticker Maker

Sticker Maker by Stickify: Create your own WhatsApp stickers or discover more
Exploring the Top 10 Android Sticker Maker Applications
Android users enjoy a plethora of user-friendly and creative sticker maker applications that offer an array of features to enhance the messaging experience. These apps allow you to create, customize, and share innovative sticker packs, each filled with fun elements like funny memes and memojis. The versatility of these applications is evident in the numerous categories they inherently support. The sticker apps focus on various themes such as fun, laughter, romance, festivals, and much more. The integration of these apps with messaging platforms like WhatsApp WAStickerApps makes it easier for users to send their personalized sticker creations directly from the app. Let's dive in and explore the 10 best sticker maker apps for Android, focusing on key features like sticker customization, memojis creation, funny meme stickers sharing, among others.
10 New Android Sticker Maker Apps
Here are the latest 10 to explore on your Android phone.
Photo Collage Maker-Photo Grid

Best photo collage maker & editor with 100+ layout❤️,filter,sticker,text,emoji😆

The Sticker Maker for Whats

Your ultimate destination for creating and sharing custom stickers for WhatsAp

Sticker Maker 2023

Transform your photos into fun-filled stickers with ease.

Sticker Maker

Elevate your conversations.

Cute Sticker Maker

Cut Sticker Maker can make your conversations enjoyable.

Emoji Maker: Sticker Mashup

Use your imagination to make emoji stickers by mashing up different units.

Sticker maker - WASticker

Sticker maker app for WhatsApp, stickers for WhatsApp, emoji - WASticker

Emoji Photo Sticker Maker Pro

Funny emoji photo sticker with over 2000+ emoji sticker make funny photo & save

Store Music Beat - Video Maker

Powerful music beat video editor app with beat, effect, music, text and sticker

Collage Maker and photo editor

Photo collage & editor with 100+ layout, filter, sticker, text, neon, frame
Final Thoughts
Sticker Maker apps have been always found installed on millions of Android phones. While, sticker maker apps are usefull in many aspects, they still have a special place in the hearts of people in all age categories. All sorts of sticker maker app users are enthralled by sticker packs, animated sticker, stickers wastickerapps, whatsapp wastickerapps, memes stickers, memoji stickers. These finest sticker maker apps have all types of features and also include endless use scenarios. Whether we are dealing with some problem at work, or being creative at home, sticker maker apps can always come handy.